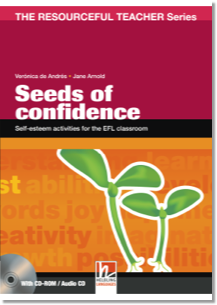 CD-ROM download included

This book comes with a CD-ROM, to
minimise the download size, a separate
download link will be sent to you
after you have bought & downloaded
the book.
Seeds of Confidence
Verónica de Andrés & Jane Arnold

Seeds of Confidence
presents current thinking on a very important aspect of the affective domain - self-esteem - and provides teachers with motivating, creative activities for use in the classroom to develop both language skills and learner confidence. As has been said, confidence leads to competence.
In
Seeds of Confidence
five essential components of self-esteem are covered: security, identity, belonging, purpose and competence. Many suggestions are given for dealing with each in the classroom and so creating a classroom climate in which real language learning can grow.
Using
Seeds of Confidence
in their classrooms, teachers can become more resourceful and can enhance their teaching practice and their own motivation. Many activities can also be adapted for use in teaching other subjects and in facilitating learning in all contexts.
Intrinsic Books digital edition:
£
29.95 ($37)
Click on the link below to buy a print edition of this book

Seeds of Confidence: Self-esteem Activities for the EFL Classroom - Educational Teacher's Handbook (Resourceful Teacher)